"Instead of turning it up to 10," Friday night's headliner Jay-Z said to an adoring Coachella crowd, "Tonight we're going to turn it up to 99."
And indeed they did — "they" being the rap megastar, his 10-strong Roc Boys band, fella New York emcee Memphis Bleek, and one very special guest. In two hours, Hova performed more than 30 songs — a career-spanning set that reminded the crowd just how many massive hits he's racked up in just 15 years.
Jay-Z's status as modern pop royalty had been driven home in no uncertain terms by the time the surprise crown jewel arrived: None other than Beyoncé Knowles, singing lead on the show closer, "Young Forever."
Beyoncé wore an oversize off-the-shoulder tee loaded withhand-painted punk iconography. Between a jagged anarchy symbol and thewords "punk ass mother fucker" was a familiar phrase: "Never Mind theBollocks." It was a subtle nod to the legend who was playing one stageover — John Lydon, founder of the Sex Pistols and Coachella co-headlinerPublic Image Ltd.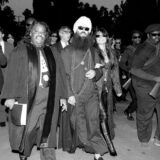 The set began with Jay-Z entering via a lift hidden beneath the stage, so that he rose savior-like through the floor as the lights went up on the elaborate set behind him. Indeed, there was something religious about the larger-than-life experience.
Not only was there a blessed arsenal of instruments to Jay-Z's back — countless drums, a brass section, guitar, bass and various keyed things — a virtual cityscape stood behind him.
Fifteen or so building-shaped towers projected various images throughout the night, shape-shifting from fiery columns to a larger-than-life pileup of booming Marshall stacks (for a particularly agro version of "99 Problems") to the New York skyline itself (for "Empire State of Mind," of course).
The more adventurous in the crowd climbed the speaker scaffolding deep in the field, throwing the diamond-shaped Roc-A-Fella Records symbol in the air for Jay-centric tracks like "My Name is Hov," "Izzo (H.O.V.A.)," "Jigga What, Jigga Who," and "Jockin' Jay-Z" — the latter three making up a mid-set medley.
The only odd moment came when the band played over a lengthy sample of Oasis' "Wonderwall" while Jay strutted with his arms in the air, commanding a sing-along and basking in a glory that wasn't exactly his. That said, the night belonged to Hov, who fought through a hoarse throat to deliver a hugely rewarding set.
"Ya'll ain't ready to leave either, are you?" he asked after the first 24 or so songs, before digging deep into his back-catalog for late-'90s hits like "Big Pimpin'" and "Money Ain't a Thang." Those older songs sounded great, but surprisingly bare bookended by his more musical latter-day output.
Jay-Z brought things to a close by singling out and thanking a couple dozen fans dispersed across the polo fields. It was the perfectly gracious but confident end to a true spectacular. Run this town, indeed.
SET LIST:
"Run This Town"
"Takeover"
"Diamonds From Sierra Leone"
"My Name is Hov"
"On to the Next One"
"DOA (Death of Auto-Tune)"
"99 Problems"
"Is That Yo Bitch?"
"Can I Get a…"
"Beware of the Boys"
"I Just Wanna Love U (Give it 2 Me)"
"I Wanna Rock"
Medly: "Izzo (H.O.V.A.)", "Jigga What, Jigga Who," "Jockin' Jay-Z"
"Wonderwall"
"A Dream"
"Empire State of Mind"
"Already Home"
"Heart of the City (Ain't No Love)"
"Dirt Off Your Shoulder"
"Hovi Baby"
"Show Me What You Got"
"Thank You"
ENCORE:
"Fiesta"
"Money Ain't a Thing"
"?"
"Big Pimpin'"
"Hard Knock Life"
"Young Forever"
"Encore"
WATCH: Jay-Z & Beyonce, "Young Forever"
https://www.youtube.com/embed/kzbE3_j30O0