To call this collaboration "unlikely" would be one hell of an understatement.
Hayley Williams, the 21-year-old girly-girl singer for Tennessee's Paramore, will appear on the same song with oft-sadistic Detroit rapper Eminem. The person responsible for uniting the odd couple: buzzworthy Atlanta rapper B.o.B, who recruited 'em both for "Airplanes (Part II)," a track off his upcoming debut album The Adventures of Bobby Ray (out April 27).
"I was given the track a while ago while we were on tour," Williams told MTV News of the collaboration. "The guys and I all loved it. They told me I was crazy if I passed it up. I liked the part too much anyways, so of course I was down."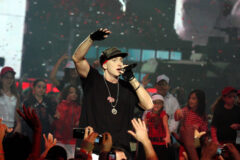 While she and Eminem never actually set foot in the studio together, Williams gushed about the chance to share billing with Slim Shady. "I only found out about Eminem getting on the track like a month ago. As if the song couldn't get any better. He just slays me, he's such a genius," she said.
In fact, Hayley loves her hip-hop. "Whether our fans know or not, I'm not sure, but [Paramore bassist] Jeremy [Davis] and I have always been really into hip-hop," she said. "I'm a big B.o.B fan. Got everything of his that I've been able to get my hands on… It means a lot that I got to collaborate with a hip-hop artist who is from Atlanta. We Southern gals love us some Southern gentlemen."
Williams appears on two tracks on the album: "Airplanes," and an album-closing reprise featuring Em, called "Airplanes (Part II)." "Both versions of the track are incredible, that's all I'll say," she added. "I'm so proud to be a part of this!"
The Em/Hayley Williams union isn't the only peculiar collabo on the album. In addition to rappers like T.I. and Lupe Fiasco, Weezer's Rivers Cuomo also makes an appearance.
Can't wait for the new B.o.B release? Get a taste with album track "Nothin' On You" over at MySpace.