A just-unearthed remix from British duo Cornershop features an absolutely smashing guest spot from a young M.I.A. Download it below!
The version of Cornershop's cut "Topknot," produced back in 2004, finds M.I.A., aka Maya Arulpragasam, confidently dropping verses over a delicious South Asian groove, and affords a sneak peek at the Sri Lankan MC's game-changing talent. "[The track] goes somewhere else with M.I.A.'s vocal rap, of course, one of the best she's put to plastic," Cornershop leader Tjinder Singh tells SPIN.com.
The track comes from Caveman, aka Pulp bassist Steve Mackey, who happened to working with M.I.A. on her debut album, Arular, when he crafted this version. "The whole process was very natural and born out of a genuine love of the original track, which we found very encouraging — no rupees exchanged hands," says Singh.
Cornershop is set to drop the SPIN-approved Judy Sucks a Lemon for Breakfast, their first studio album in eight years, on April 20 — and they've been gearing up for the release by digging through their archives to uncover gems like "Topknot."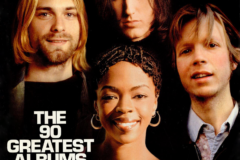 Back in the late-'90s, Cornershop paved the way for artists like M.I.A. by melding catchy dance-pop with sonic hints of Singh's South Asian heritage and a global worldview — like on their breakthrough 1997 single, "Brimful of Asha."
"Me and [Cornershop partner] Benedict [Ayres] have checked out M.I.A's releases from the very start," he says. "We particularly liked the early limited 12″ vinyl releases she put out with Steve Mackey at the controls. They've stood the test of time, and she is undeniable."
Tell us what you think in the comments section.
LISTEN: Cornershop, "Topknot (Cavemen Mix featuring M.I.A.)" (DOWNLOAD MP3)