It's a story made in hip-hop heaven: Dr. Dre and Jay-Z are collaborating on a song called "Under Pressure," a single off the Dr.'s long-awaited record Detox.
Dre and Interscope Records honcho Jimmy Iovine officially announced the song before Sunday's Boston Red Sox season opener against the Yankees. The pair stopped by Fenway Park to promote Dre's new Beats headphones, get in a quick round of batting practice, and speak with New England Sports Network about the upcoming single.
In the interview, the reporter asked Iovine what his at-bat song would be: "The new song Dre has in his pocket, called 'Under Pressure.' It's a brand new single by Dr. Dre and Jay-Z. That's the song I would use."
Dre agreed: "Absolutely, that would be it. 'Under Pressure.' It's so fitting."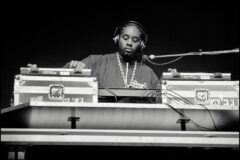 The confirmation follows a photo of the hip-hop legends together in the studio, which hit the web last week.
Watch the video interview with Dre and Iovine below, then tell us what you think in the comment section.
Dr. Dre and Jimmy Iovine interview: