All that was missing Tuesday night at the kickoff to Corinne Bailey Rae's 16-date North American tour was a collection plate.
Everything else surrounding the British songstress' concert cried religious experience – the setting, Vibiana, a 134-year-old decommissioned cathedral in downtown Los Angeles; the audience, 500 or so devout fans; the proselytizer, influential radio station KCRW-FM; and the music, 14 chapters of heart and soul ending in a stirring, gospel take on"Que Sera Sera."
Rae proved a charismatic confessor, the fabric of her expressive vocals flitting between silken jazz and woolen soul as she traversed nine of the songs from her sophomore album "The Sea," released in January. The album, the 31-year-old singer-songwriter's first since the March 2008 death of her husband Jason from an accidental overdose, has been widely praised for its more organic sound and widescreen vision, and on this night Rae and her five-piece backing band carried its torch bravely.
Only the acoustics threatened to douse the flame. As gorgeous and inviting as the restored Vibiana – the former Cathedral of Saint Vibiana, or St. Vib's to the locals – was, it turned into an echo chamber on bigger numbers such as "Diving for Hearts." Not that architecture put much of a damper on the proceedings.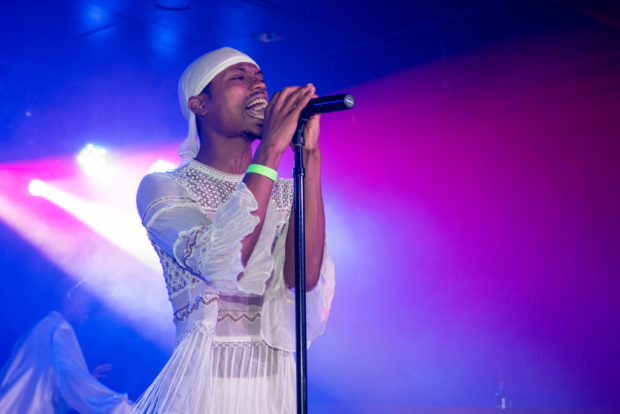 Followers who wondered how the Grammy-winning singer would negotiate the most personal moment on the new album found out early. After opening with "Till It Happens to You," Rae delivered an electric "Are You Here," a tune in which she addresses her late husband.
"There was a time when I was writing the song that I thought, 'Do I really want this out there in the world?'" Rae told KCRW music director Jason Bentley during a 30-minute interview in between the concert's two sets. The chat covered her musical beginnings as a rocker nurtured by her church's youth group leader, her initial trepidation to sing since her voice wasn't "a really accomplished, virtuosic thing" and the making of "The Sea" in a live-band setting.
Those musicians are backing her on this tour, and whether it was nailing the pop choruses of "Paris Nights/New York Mornings," or gently massaging "Love's On Its Way" from haunting ballad to hymn, or getting its Motown on during "Put Your Records On," they were deft conspirators.
Rae, meanwhile, exuded the cool confidence of a singer who, seemingly with the flip of a switch, can go from funky ("Closer") to folky ("I'd Like to Call It Beauty") to fearless (her cover of "Little Wing"). In the latter case, Rae hijacked Jimi Hendrix's 1967 classic and turned it into a slow-motion apparition. In other hands, it might have been a violation of the Eighth Commandment. In Rae's it was a blessing.
Setlist:
Till It Happens to You
Are You Here
Paris Nights/New York Mornings
Closer
Like a Star
Love's On Its Way
I'd Do It All Again
Put Your Records On
Little Wing
Feels Like the First Time
Diving for Hearts
I Would Like to Call It Beauty
The Sea
Que Sera Sera