Two years after the release of their last album, Narrow Stairs, Death Cab for Cutie are ready to get back to work — and frontman Ben Gibbard says fans can expect the Seattle band's seventh album early next year!
"We're going in the studio in June to start working on the record," Gibbard told MTV. "We're going to be recording through the summer and into the fall… we're probably looking for a spring 2011 release."
Better yet, Death Cab don't intend to slow down anytime soon. "I feel like we have a lot more records to make," Gibbard added.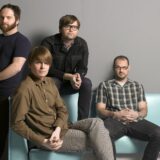 He also noted that despite now living in different cities, the band's four members have managed to stay tight. "I strangely feel closer to my bandmates than I ever have before," he said. "We've all kind of landed in a place in our lives, personally and professionally, where we can all get together and enjoy each other's company and enjoy making music."
Personally and professionally, the guys have been pretty busy — particularly Gibbard, who made headlines last fall after tying the knot with actress and She & Him songbird Zooey Deschanel. The following month, Gibbard and Sun Volt singer Jay Farrar dropped their SPIN-approved collaboration One Fast Move or I'm Gone, an album inspired by Jack Kerouac's 1962 novel Big Sur.
Guitarist Chris Walla, who is once again taking over production duties for Death Cab's new album, was also busy last year. He spent time in the studio with Portland-based band the Thermals, producing their 2010 release, Personal Life.