Never shying away from a good cause, hip-hop stars Lupe Fiasco and Kenna — who recently climbed Mount Kilimanjaro to fight the worldwide water crisis — have just released the video for "Resurrection," their collaborative benefit song to support relief efforts in Haiti. Watch below.
Produced by Linkin Park's Mike Shinoda, "Resurrection" works as both a club bumper and a sincere tribute to the horrific tragedy. The track's video features "We Are The World"-esque studio footage of Fiasco and Kenna spliced with scenes of a ravaged Haiti.
"Resurrection" is featured on Download to Donate for Haiti, a recently released, star-studded compilation with songs from other artists like Linkin Park, Dave Matthews Band, Peter Gabriel, Alanis Morissette, Slash, the All-American Rejects, and Hoobastank.
Fiasco's forthcoming record, Lasers, is set to drop this spring with production Kanye West and the Neptunes. The rapper will hit the road in the album's support in late March — check out the complete tour itinerary here.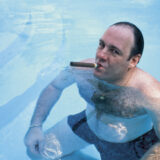 WATCH: Lupe Fiasco and Kenna, "Resurrection"