On four albums over eight years, Portland, OR's the Thermals have mastered the bratty, fun, and catchy three-chord punk song. But with the September 7 release of their next record, Personal Life, they're returning with a new formula.
This time, rather than record songs written only by singer, guitarist Hutch Harris, bassist Kathy Foster penned roughly half the album. Harris says this move has pushed the band to a more dynamic sound, which is further fleshed out by the addition of drummer Westin Glass.
"Every time I sit down with a guitar I have the tendency to write the same song over and over," Harris tells SPIN.com. "Kathy's songs [have] given us more space."
Below, Harris talks about the band's new sound, working with Death Cab's Chris Walla, who produced Personal Life, and a few of the Thermals' biggest fans: former Smiths guitarist Johnny Marr's children.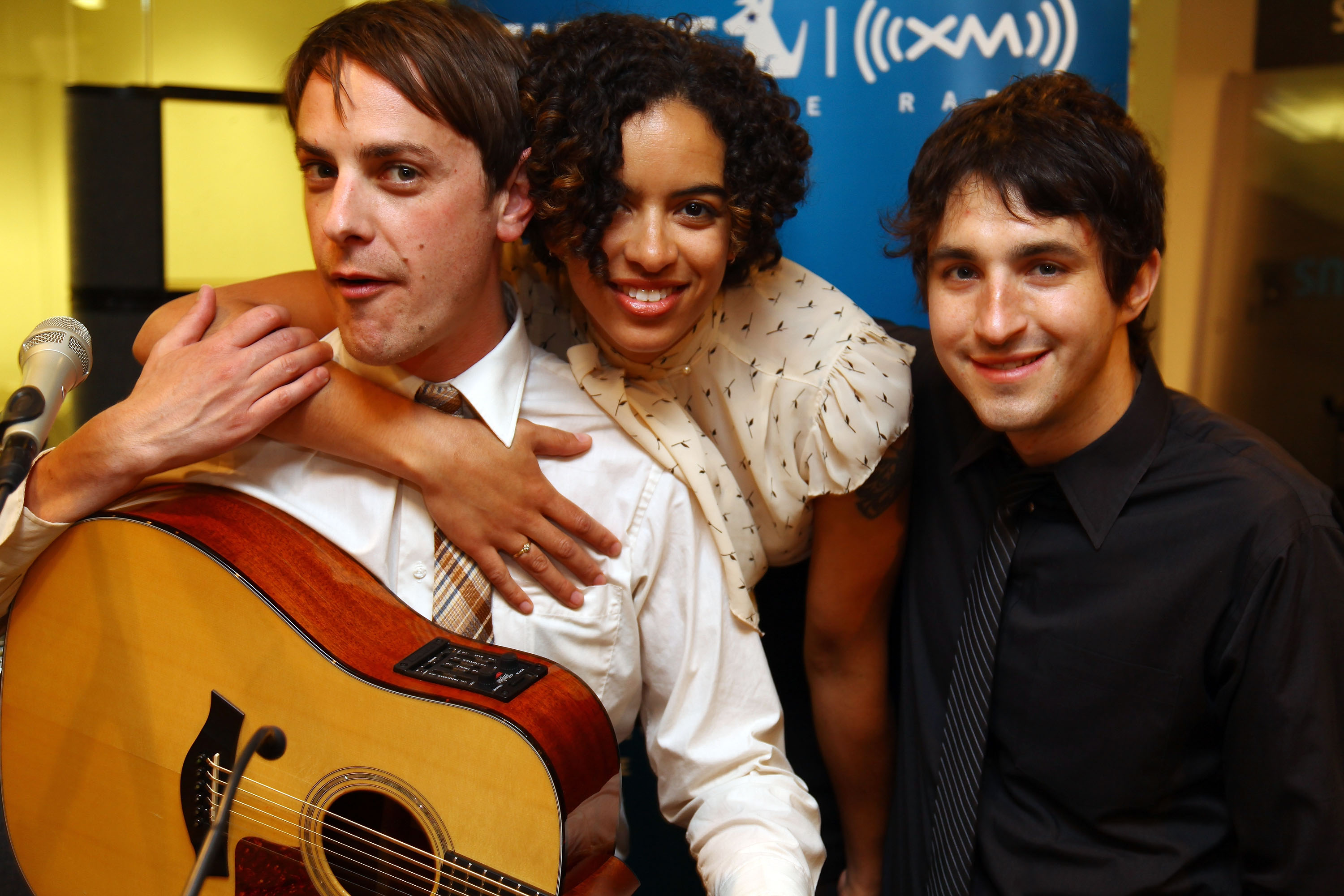 Hey, Hutch. How's the new album coming?
We're almost done! We tracked with Chris Walla for a week in December and just spent another week mixing with him. He has a nice studio at his house in Portland, OR, and he's really taking his time to make sure everything sounds fucking rad!
How do the new tunes sound?
The songs I write tend to have big, loud chords and not a lot of dynamics. But Kathy's songs have a lot of drums and bass, and melodic guitar lines not chords. It's a big change. I'm already thinking Kathy will write the entire next record.
This is the first record the Thermals have recorded with new drummer Westin Glass. How was that experience?
It's actually the first time we've done a record with a third person. It's also the first record in a long time where everyone just went into the studio and played their part. We looked at the last two records as projects. There was a lot of tracking and we definitely did a ton of overdubs. With this album a lot of the songs are live and I did zero overdubs on guitar, so anytime it sounds like there are a multiple guitars it's only because Chris had set up five amps with all these different pedals.
The Thermals' last two records have explored themes of death, god, and sinister governments. What should fans expect lyrically?
The lyrics are a lot more simple. There's an immature vibe to the record because there are a lot of love songs and songs about relationships. I was tapping into the way I wrote lyrics in high school, when I thought about lyrics less. On the last two records I wrote and re-wrote the songs over and over again. The new album's title is supposed to signify that this record is about basic human problems. The album's first song is called "I'm Gonna Change Your Life" and it has a Bowie vibe. It's a cocky love song about changing someone's life and doing all these wonderful things for them to get them to love you. "I Don't Believe You," the first single, is about lies in relationships and the difficulty of being honest.
The Thermals worked with Fugazi's Brendan Canty and John Congleton (Modest Mouse, St. Vincent) on the last few albums. Why return to Walla, who produced your 2004 album Fuckin' A?
I'm always trying to get Chris. I love Brendan and John — they're totally rad made amazing records for us. But there's something about working with Chris. There's a real clarity to his sound, but at the same time he keeps grit to all the tracks. In the studio he'll do crazy stuff like put a cymbal on the floor and aim a mic at it to catch reflections of other sounds in the room. Or he'll stick a mic in a plastic cup and put it next to drums. He keeps it really creative and can make us sound low-fi and hi-fi at the same time, which we love.
Do the Thermals have any pastimes in the studio?
We smoke a lot of weed. But coffee is the number one thing. Chris is just making pot after pot. Recording is like a little vacation for us. We get up at noon, make some coffee and get some bagels, and then just stuff our faces for the rest of the day. We recently realized that we're now spending more on food than we spent on recording our entire first record.
The Thermals have toured with and are releasing a new "7 with the Cribs. Any particularly funny stories from the road with those guys?
They're really sweet, fun guys. It's crazy to be with three brothers, especially when two of them are twins, and they have those thick Yorkshire accents. When I first met them, I couldn't understand a fucking word they said. The last time we toured with them, Johnny Marr had joined the band. We played two nights in Manchester and his son and daughter came to the shows. We had finished Now We Can See, but it wasn't out for a couple months and he said his kids were big Thermals fans. He said, "You should really give me a copy of your record." I was like, "Oh, fuck yeah, of course." Damn, it's Johnny Marr! He kept bugging me and I kept forgetting. Then one day he comes to me with a CD-R and said, "Hey! Put your new record on this for me!" I couldn't believe it came to the point where Johnny Marr had to actually bring me a CD-R and demand our record. How stupid am I for not just giving it to him?