Indie rock fans' prayers were finally answered Monday night in Auckland, NZ. Yep, it really happened: Pavement reunited for their first live concert in more than 10 years.
Watch live video from the show below!
At the 1,600-capacity Town Hall, the quintet — guitarist, vocalist Stephen Malkmus; guitarist Scott "Spiral Stairs" Kannberg; drummer Steve West; bassist Mark Ibold; and multi-instrumentalist Bob Nastanovich — kicked off their world tour, which hits Australia and Japan before heading stateside this spring for fests like Coachella and Sasquatch!
The band rocked through a 25-song set — which they refined during two weeks of rehearsals in Portland, OR — including plenty of tracks from SPIN's dream setlist: show-opener "In the Mouth a Desert," from the band's 1992 full-length debut Slanted and Enchanted, Wowee Zowee gem "Grounded," and Crooked Rain, Crooked Rain standouts "Cut Your Hair," "Gold Soundz," and "Range Life."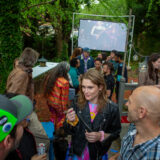 Spiral Stairs took to his blog to post a few photos from the show — including this charming backstage shot. "We were seriously nervous!" he wrote in the post. "The show was great. The fans were unreal. Whew… all those Pavement anxiety dreams can now go away!"
Meanwhile, New Zealand blogger Piero posted few pics of the boys live in action right here.
Tell us what you think of Pavement's reunion set in the comment section.
"Cut Your Hair"
https://www.youtube.com/embed/vOh3RMuGHZw
"Range Life"
https://www.youtube.com/embed/HF_0dovnFns
"Rattled by the Rush"
https://www.youtube.com/embed/P9wheV9hDrc
Pavement's Setlist (via Jim English)