Tuesday night on The Tonight Show with Jay Leno, Joan Jett dropped a "Cherry Bomb" on America.
Jett and her band the Blackhearts ripped through a tight rendition of her 1976 rock anthem to support the upcoming release of The Runaways (in theatres March 19), the much-anticipated movie about Jett's all-girls 1970s rock band of the same name, starring Kristen Stewart (as Jett) and Dakota Fanning (as singer Cherie Currie). After the performance, Jett sat down with Leno for a brief chat about learning to play the guitar at 13, sexism in rock'n'roll, and working with Kristen Stewart.
"She was so authentic and so real," Jett said of the Twilight heartthrob. "We were joined at the hip. We were together all the time. She did an amazing job."
The film's cast and the band's original members have been busy preparing for the release of The Runaways. At the Sundance Film Festival in January, Fanning, Stewart, and Cherie Currie joined Jett & the Blackhearts onstage at an exclusive, SPIN-sponsored concert to celebrate a screening of the film. And just last week, Currie spoke candidly to SPIN.com about the film, her friendship with Jett, and the dark side of life as a teen rocker. Read the complete interview right here.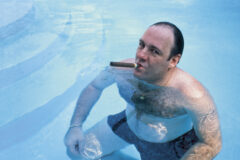 WATCH: Joan Jett & the Blackhearts, "Cherry Bomb"
Joan Jett interview:
https://www.youtube.com/embed/Ym3yP5bDT0Q