Detroit "horrorcore" rap duo Insane Clown Posse drop gruesome rhymes about murder, homicide, and rape — but when their fans, called Juggalos, commit crimes are ICP to blame?
ABC talking head Martin Bashir asked that question during Tuesday night's episode of Nightline, as he interviewed ICP rappers Violent J and Shaggy 2 Dope about their artistic freedom, multi-million dollar careers — and the recent spree of bloody crimes committed by Juggalos. Watch the video segment below.
Bashir, who calls ICP's music "prepubescent" and "illiterate," points to at least four recent Juggalo-related arrests for homicide or murder, including the case of 21-year-old Pennsylvania resident Michael Goucher, who was killed last February after having been stabbed with a knife and a meat cleaver more than 20 times. The two arrested for the murder identified themselves as Juggalos — one was even wearing an ICP shirt when he was arrested… and had written a rap about the murder itself.
According to the segment, Juggalos are now classified as a "gang" in Utah, Arizona, Monroe County, PA, and Modesto, CA. But are ICP really to blame? The rappers certainly don't think so.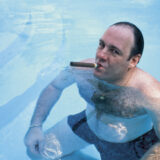 Shaggy 2 Dope thinks fans who take their lyrics literally are "grown retards," while Violent J takes a more eloquent approach: "We don't encourage anybody," he says. "We have face paint on. We are entertainers. If any of our fans kill somebody, please don't buy any more of our records. Get out of our lives — you're a sicko."
Are ICP to blame for Juggalo violence? Watch the complete Nightline segment below, then tell us what you think in the comment section.
WATCH: ICP on Nightline: