Some nights are just meant to be. The perfect band in the perfect venue on a perfect night in a town so perfect its number one export is the picture postcard. Such was the case Saturday when Air launched the North American leg of their Love 2 Tour at Miami Beach's Fillmore Gleason Theatre.
This being a transient town, the crowd came from the globe's four corners, and smatterings of Spanish and Arabic and German and Dutch and Japanese could be heard slicing through the various strains of broken English. The main second language was French, though, and it came tinged with the pride for the Parisian heroes.
Backed by drummer Alex Thomas of Badly Drawn Boy and a mysterious technician with a miner's head lamp, Air's duo of bassist/guitarist/vocodorist Nicolas Godin and singer/keyboardist JB Dunckel let loose a swirl that stirred the soul and became a dreamy pastiche of swoon and sway.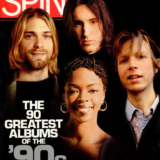 The songs drifted into each other, and by the end of the over 90-minute set it was hard to recall which came when.
Highlights included the whistling homage to the Spaghetti Western "Alpha Beta Gaga," the intimate "How Does it Make You Feel?" and the phantasmagoric lullaby "Venus."
"So Light is Her Footfall" and "Cherry Blossom Girl" also resonated with the crowd, but an Air show is less about individual songs and more about the atmosphere created by the entire set. Call it mood music for now people.
Godin and Dunckel were so cool they never broke a sweat, even during a relatively rousing three-song encore that included the standout "Sexy Boy."
It's the cool of Yves Klein's "International Blue" and Jean Luc Godard's Breathless and Alain Robbe-Grillet's Djinn all rolled into an aural cone, and it elevates everyone within earshot.