SPIN.com has the exclusive debut of San Francisco rockers Black Rebel Motorcycle Club's new video for "Beat the Devil's Tattoo," the title track from their SPIN-approved new album. And — guess what? — the video lives up to the song's ominous title. Watch below.
The band of leather-clad bad-asses take a ride in an old-school van, smoke a carton of cigs (presumably full flavor for extra grit), and rock out in a packed nightclub, as the song's stomping beat, tambourine, and bluesy guitar lend a dark yet catchy melody to the mysterious vibe.
BRMC enjoy exploring their dark side: they contributed a new song, "Done All Wrong," to the soundtrack for 2009's vampire flick New Moon.
Catch BRMC on tour behind "Beat the Devil's Tattoo" this spring. Read SPIN's review of the band's tour kickoff right here.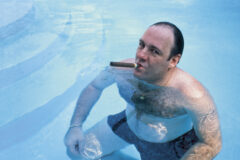 Tell us what you think of the video in the comment section below.
WATCH: Black Rebel Motorcycle Club, "Beat the Devil's Tattoo"