With a performance Wednesday on Late Night With Jimmy Fallon, soul songstress Erykah Badu debuted her first new song in two years, "Window Seat," the lead single off her forthcoming album, New Amerykah Part Two (Return of the Ankh), out March 30.
If "Window Seat" is any indication, Badu's new album going to be something particularly sexy. The song is soft and passionately sung, with romantic lyrics and smooth piano accompaniment. "I need your attention," Badu sings, and if the yearning of her voice doesn't capture the audience's attention, then her combination of a top hat, silver swim cap, tan leather jacket, and blue tights should.
For her performance, Badu is backed up by Fallon house band the Roots, which makes the evening a reunion of sorts: the Roots handled some of the production on Badu's 1997 debut album Baduizm, and two years later, Badu, Eve, and the Roots won a Grammy for their collaborative song "You Got Me."
Watch Badu's performance below, then let us know what you think about the song — and her outfit — in the comment section below.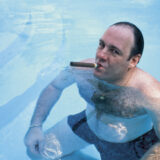 WATCH: Erykah Badu, "Window Seat"
https://www.youtube.com/embed/TZ6t1_tYH4M