Blondie singer Debbie Harry's fearless femme fatale attitude and urban-chic fashion style can be seen in many of today's hottest rockers, from Yeah Yeah Yeahs' Karen O to Paramore's Hayley Williams.
Now Harry's aesthetic is back in the spotlight with an upcoming Blondie record and line of iconic Converse sneakers, both of which hit stores this spring.
Blondie exploded onto the new wave scene in the late '70s with hits like "Call Me," "One Way or Another," and "Heart of Glass"; they sold 40 million albums and were inducted into the Rock 'n' Roll Hall of Fame in 2006. Their seamless mix of fashion and music made them unique among a New York City scene that featured bands like Talking Heads and the Ramones.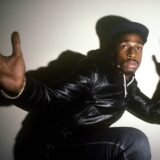 Harry's street-smart mash-up of skinny jeans, thriftshop finds, neon colors, and vintage tees complemented her chopped blonde bob and cherry-red lips. And the guys wore slim suits, skinny ties, and Converse Chuck Taylor's sneaks.
This last fact helps explain why Harry has been working with Converse to develop an iconic line of shoes featuring Blondie designs. "The shoes have been such a staple in rock 'n roll and fashion for so long," Harry tells SPIN.com. "It seems like a real genuine kind of relationship."
The new Blondie sneakers incorporate album graphics, animal prints, and neon — and retail from $55 to $85 for both men and women. Check them out here.
Blondie has also been busy recording a new record, due later this spring.
"It sounds like a mature Blondie album," Harry says. "We really wanted to have a combination of different elements — that's sort of been a tradition with us." Various songs incorporate reggae, pop, and rock — and the lyrics go deeper. "I think that this record will help people understand that one can write rock lyrics that go further into the realm of poetry and literature, that just don't make simple statements," guitarist Chris Stein wrote on the band's blog.
Blondie will tour in support of the new record throughout the summer, and are booked to open for the Strokes at the Isle of Wight Festival in the UK June 11-13. You can order tickets here.
Of today's musicians, Harry counts psychedelic rockers MGMT among her favorites. But it's the creative (and sartorial) spirit of Lady Gaga that she really admires: "I think she's waking up people, giving them a sense of fun and a sense of flamboyance and creativity. It makes people want to party."