With last year's cancer scare behind him, Beastie Boy Adam Yauch (a.k.a. MCA) is on the mend and his band hopes to release their next album record this coming September.
"It was touch and go there for a while, but I am finally getting my energy back," Yauch told EW.
Yauch's health issues forced the NYC hip-hop trio to cancel appearances at major festivals, including All Points West and Austin City Limits, and delayed the release of their new album, Hot Sauce Committee Part 1.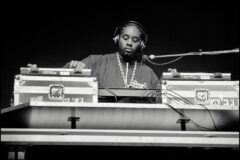 Now, the Boys — Yauch, MCs Michael "Mike D" Diamond, and Adam "Ad-Rock" Horovitz — are planning to take a second pass at Hot Sauce. "We finished the record over a year ago, so we want to take a look at it and re-evaluate and make sure it is what we want to put out there and that we are still happy with it. I don't think we will change it up too much," says Yauch.
"Too Many Rappers," featuring Nas, was released as the album's first single in July 2009 and was nominated for a Grammy in the Best Rap Performance by a Duo or Group category.
Yauch was very open with fans about his illness, announcing that he had cancer via a YouTube video, then keeping them updated via email blasts — read one here.
In addition to his work with the Beasties, Yauch is currently promoting his Oscilloscope Laboratories film production company; two of his films (The Messenger and Treeless Mountain) were recently nominated at the Independent Spirit Awards, and Woody Harrelson's performance in The Messenger garnered a Best Supporting Actor nod at this Sunday's Oscars.