Two months before the release of Yeasayer's new album, I get a sign that the band's world has changed. I'm sitting in a jury selection room at the Brooklyn Supreme Court on a warm day in early December. An Orthodox Jewish woman is arguing with a defense lawyer about the details of the traffic accident we're being asked to consider when someone taps me on the shoulder.
"Hey, man," whispers the dude beside me. "What do you do for a living?"
I tell him what I do.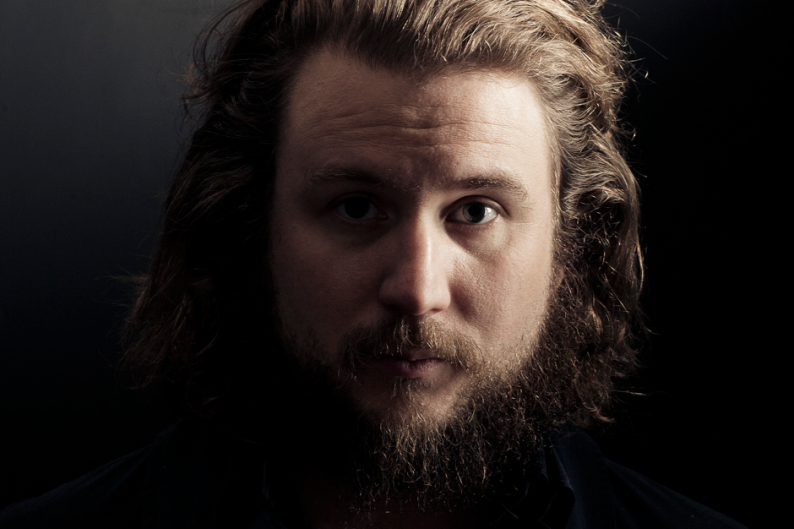 "Really?!" He asks excitedly. "Did you hear the new Yeasayer?"
By now, he and many others have heard Odd Blood, the band's second album. "The fact that people know us and are eager to hear us is completely new," says guitarist and singer Anand Wilder, sitting in a messy room at Manhattan's '50s-style Ace Hotel, one leg on the glass coffee table in front of him, the other flung over his chair's armrest. "When our first album came out, no one cared. We threw our own release party. Now, you and I are talking and the video for [first single] 'Ambling Alp' is on Kanye's blog." (Download the song here.)
The extra attention isn't the only thing that's changed; 2007's All Hour Cymbals, recorded for $5,000, was an enigmatic debut that, in its weaving together of Sacred Harp harmonies, Chimurenga rhythms, and melodic psychedelia, sounded like a Lonely Planet guide to ecstatic music. The album sold 40,000 copies in the U.S. and positioned Wilder, 27, singer-keyboardist Chris Keating, 27, bassist Ira Wolf Tuton, 30, and since-departed drummer Luke Fasano somewhere ahead of Amazing Baby and Chairlift but behind MGMT and Grizzly Bear in the ranks of Brooklyn music royalty. Odd Blood — funkier, catchier, and, according to band manager Jason Foster, "exponentially more expensive to make" — was designed to take them even further.
"We tried to make a poppier album," says Wilder. "I don't want to be 40 and making songs that only my girlfriend will hear."
Seconds Keating, "We wanted to sonically challenge Rihanna in the clubs. We wanted you to feel the bass in your balls."
The journey to forging this testicle-tickling low end began in 2004, when the Baltimore-bred Keating moved to New York City after a year in Chicago producing underground rappers. He promptly connected with high school friend Wilder, then working on a musical about coal miners. Tuton, whose sister is married to Wilder's cousin, joined soon after, taking time from a solid carpentry gig. ("I was in O for some work I did," says Tuton, the most earnest Yeasayer. "That magazine made me look like a tool.")
"We were trying not to rip off Joy Division and sing apathetically," says Keating of the band's origins. "Instead we said, 'Let's mix folk and electronic music and Peter Gabriel.' But we were shy about getting our music heard."
In person, though, the scruffily handsome trio don't scan as bashful. Standing in the Ace's lobby, Tuton jabs a finger in a friend's chest, imploring, "Try the Caesar salad here! They use real anchovies!" while Keating says his wife complains if they go to sleep without doin' it: "She's all, 'Are we old? We're having sex right now or it's over!'?"
The next day, sitting in SPIN's offices, Keating's mind is still on fleshly matters — namely the skin displayed in the "Ambling Alp" video (watch it here): "When I heard that the Flaming Lips were also doing a video [for 'Watching the Planets'] with nudity, I was pissed people would think we were ripping them off," he says. "But it was cool to see Wayne Coyne's dick."
Though Yeasayer lost the race to release a mystic-hippieish NSFW clip, their rise has been smooth. Foster paid for the recording of the first album after hearing 30-second demos of the choral "Sunrise" and apocalyptic "2080" on the band's MySpace page. He released Cymbals on his We Are Free label in October 2007, while Odd Blood is out on Secretly Canadian, home to Antony and the Johnsons and BLK JKS.
Since their discovery, the band has taken a series of modest forward steps: a 2008 co-headlining tour with MGMT, dates with Beck in Europe, appearances on Conan and at Glastonbury and Lollapalooza, and in October 2008, a maiden headlining tour.
Despite the success, two key elements were missing. "Money and time," says Wilder. "We're trying to do this layered, dense sound, and you can't do it in a week." Fortunately for the strapped Foster, Secretly Canadian (and its U.K. label Mute) helped pay for the band's three-month stay in early 2009 at a fully loaded home studio owned by ex-Peter Gabriel drummer Jerry Marotta in snowy upstate New York.
"It was like we'd won a ticket to Willy Wonka's factory," says Tuton, thinking back to the studio's arsenal of drum machines, subgenerators, and filter banks. With Chaka Khan's deep funk and Tangerine Dream's deep space as inspiration, the trio spent their days recording the album's beat-heavy synth pop, testing the tracks by seeing how well they could dance to them. Nights were spent watching movies. As Tuton says, "It was all very Three Amigos."
"We watched that too," quips Keating. "It does not hold up."
"Odd Blood sounds fresher and funkier than the first album," says Bat for Lashes' Natasha Khan, who enlisted Tuton and Keating to play on her 2009 album Two Suns. "You can hear the joy they felt in having no limits."
Starting in April, three will turn to five as drummers Jason Trammell and Ahmed Gallab fill out the touring lineup. Much of the summer will be spent in Europe, with return trips to the States for festivals. Then? "Mostly just chillin' with Kanye," says Wilder nonchalantly.
"Yeah," says Tuton, "We'll be at all the rich people parties, watching our egos expand."
Keating has other plans. "I think," he says with a smile, "I'll be spending some time with my wife."