Even though his road-doggin' ex-bandmate Axl Rose has been hogging the headlines since Chinese Democracy finally saw the light of day a year-and-a-half ago, former Guns N' Roses guitarist Slash has been busy too — on April 6, the top-hatted six-stringer will release his first solo album.
Featuring vocal contributions from the likes of Fergie, Kid Rock, Lemmy, Chris Cornell, Ozzy Osbourne, and Maroon 5's Adam Levine, the self-titled Slash features the heavy riffage and soaring, bluesy solos beloved by fans of the guitarist's work in GNR and Velvet Revolver, but it also offers its share of surprises. "I gave an open canvas to the singers," says Slash, speaking on the phone from L.A., "And I think some of them decided to go in unexpected directions."
Given that you're used to making music with a stable band lineup, was it a challenge to work with so many different singers?
It wasn't the easiest thing, I'll tell you that. The way it worked was that I'd have a demo of a song, either in its complete form or maybe a couple of parts, and then send it to whomever I thought would be an appropriate singer. We'd work out the arrangements together, but that person got to write whatever lyrics they wanted to. Some people, like Fergie, came down to my studio in L.A. and sang their parts. Other people did it remotely. So it was very stitched together. It was fun, but kind of crazy. If I'd known about the obstacles I was going to have in making this record, it might have deterred me from doing it.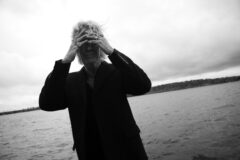 You should have just made an instrumental album.
[Laughs] Personally, I like to play within the confines of song structure. I don't do well with 20-minute guitar solos. The idea of an instrumental record bores me. There is an instrumental on the album ["Watch This"], but that's because I couldn't get Dave Grohl to sing but he said he'd play drums. So I was like, "Fuck it, I'll make an instrumental."
Which singer took their part in the most unexpected direction?
I think the Fergie song ["Beautiful Dangerous"] is going to shock everybody. She's got this amazing rock voice. Calling her up and saying, "I've got a song for you to sing" and then hearing what she did vocally was a surprise. The other person who really surprised me was Nicole Scherzinger. Her song ["Baby Can't Drive"] isn't on the album — it's gonna be a U.K.-only single. But she duetted with Alice Cooper on it and turned out to be a fucking amazing rock singer.
Was there anyone who you wanted to sing on the album but couldn't get?
There was one person who couldn't do it because of contractual issues. I can't say who it was. There is a lot of red tape with using any of these artists.But I want to make one thing public: It was said somewhere that Jack White refused to be a part of the album. That wasn't the case. Originally the idea was that Mark Ronson was going to produce the record. I was looking for a vocalist and Mark suggested Jack's name. Then I guess Mark went to him and he said he'd be glad to play on the album but he didn't want to sing. That was basically it. I just wanted to clear that up.
You're also involved in a talent contest with the Guitar Center. One lucky band gets to write and record an EP with you. Are you hoping to mold the winner?
I don't want to go in and manipulate a band. I'd rather discover a really great fucking group with some cool songs, cool style, and good energy and fine-tune them. I remember in the old days people came along trying to tweak Guns N' Roses. We were like, "Fuck You." Changing the essence of a band does not thrill me at all.
You have some experience with bands being different from what they once were.
[Laughs] You could say that. But I just want to focus on my own thing right now.
Will you be touring the record?
[Alter Bridge frontman] Myles Kennedy is gonna come with us and sing. It'll be killer.I promise.