Eight months after Michael Jackson's death last June, the late star's personal physician, Dr. Conrad Murray, was charged Monday with involuntary manslaughter for administering the King of Pop a powerful anesthetic that was a major factor in his death, the AP reports.
Murray entered a not guilty plea in Los Angeles Superior Court just hours after he was charged. He is currently in custody and is being held on $75,000 bail.
Superior Court Judge Keith Schwartz ordered Murray to surrender his passport, but granted the doctor permission to continue practicing medicine as long as he doesn't administer anesthesia, People reports.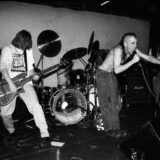 "I'm talking about deep anesthetic, where you put somebody to sleep," the judge said. "You can be in a room where another doctor is doing it, but you can't do that."
The L.A.P.D. and D.E.A. focused their investigation on Murray last August, when a coroner said Jackson died from "acute propofol intoxication," combined with other sedatives, all of which were administered by Murray to help Jackson, 50, with insomnia.
"We'll make bail, we'll plead not guilty and we'll fight like hell," Murray's attorney Ed Chernoff said, according to the AP. Murray could face as much as four years in prison if convicted.
The prosecution is accusing Murray of acting without "the caution and circumspection required" when dealing with drugs as powerful as those he gave Jackson. The anesthetic propofol is only supposed to be given in a medical setting by an anesthesia professional, according to federal regulations.
The upcoming trial is already shaping up to be yet another celebrity drama. Fans crowded the courthouse during the arraignment, chanting and holding signs that read "Justice for Michael."
Much of the Jackson family was there, too, including Michael's father Joseph, mother Katherine, and brothers Jermaine, Tito, and Randy, TMZ reports.