The hour is nigh, indie rock fans — influential '90s band Pavement will kick off their much-buzzed reunion tour Monday in Auckland, New Zealand!
In preparation for the worldwide trek, the quintet spent the past two weeks rehearsing in Portland, OR, the hometown of frontman Stephen Malkmus. Guitarist Scott "Spiral Stairs" Krannberg blogged about the rehearsals, sharing some photos and words before flying to the island of the Kiwis.
"It was the first time some of us had been in the same room together for close to 10 years," he wrote on Matador Records' blog. "I think we all were a little nervous…. But by the time we had finished, most of the 40 plus songs we had rehearsed were sounding pretty good."
Hopefully those 40 songs include selections from SPIN's own Pavement dream set list!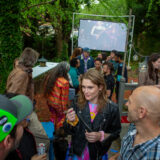 Drummer Steve West also chimed in via his YouTube channel, where he posted a silly new video in which he imparts a little wisdom about seeing Pavement live, while his bandmates jam in the background. Watch below.
Pavement will be releasing the greatest hits album Quarantine the Past on March 9. The 23-track compilation has been handpicked by the band and features their favorite songs.
Pavement Reunion Tour Dates3/1, Auckland, New Zealand (Town Hall)
3/4, Sydney, Australia (Enmore Theatre)
3/5, Sydney, Australia (Enmore Theatre)
3/6, Meredith, Australia (Supernatural Amphitheatre (Golden Plains Festival)
3/7, Adelaide, Australia (Thebarton Theatre)
3/8, Perth, Australia (Metro City)
3/10, Brisbane, Australia (Tivoli)
3/12, Melbourne, Australia (Palace Theatre)
3/14, Melbourne, Australia (Palace Theatre)
4/7, Tokyo, Japan (Studio Coast)
4/8, Tokyo, Japan (Studio Coast)
4/10, Osaka, Japan (Zepp Osaka)
4/12, Nagoya, Japan (Zepp Nagoya)
4/18, Indio, CA (Coachella Festival)
5/4, Dublin, Ireland (Tripod)
5/5, Glasgow, Scotland (Barrowland)
5/7, Paris, France (Le Zénith)
5/8, Amsterdam, Netherlands (Paradiso)
5/10, London, England (Brixton Academy)
5/11, London, England (Brixton Academy)
5/12, London, England (Brixton Academy)
5/13, London, England (Brixton Academy)
5/15, Minehead, England (All Tomorrow's Parties)
5/18, Brussels, Belgium (Ancienne Belgique)
5/19, Berlin, Germany (Astra)
5/20, Prague, Czech Republic (Palac Akropolis)
5/21, Vienna, Austria (Arena Vienna)
5/22, Munich, Germany (Muffathalle)
5/24, Rome, Italy (Atlantico Live)
5/25, Bologna, Italy (Estragon)
5/27, Barcelona, Spain (Primavera Festival)
5/30, Quincy, Washington (Sasquatch! Festival)
6/19, Toronto, Ontario (Olympic Island)
6/25, Berkeley, CA (Greek Theatre)
7/2, Gdynia, Poland (Open'er Festival)
7/4, Roskilde, Denmark (Roskilde Festival)
7/8, Liege, Belgium (Les Ardentes Festival)
7/18, Chicago, IL (Pitchfork Music Festival)
8/12, Oslo, Norway (Oya Festival)
8/14, Gothenburg, Sweden (Way Out West Festival)
9/21, New York, NY (Central Park Summerstage)
9/22, New York, NY (Central Park Summerstage)
9/23, New York, NY (Central Park Summerstage)
9/24, New York, NY (Central Park Summerstage)