Last night, 24-year-old Andrew Garcia brought a bit of the Warped Tour to FOX's American Idol, playing an acoustic version of Fall Out Boy's 2005 breakthrough hit "Sugar, We're Going Down" for the ever-critical judges. Watch his performance below.
Among the millions watching last night's competition: FOB bassist Pete Wentz, himself. "Dang did someone really sing 'Sugar' on Idol?" he tweeted during the broadcast. Then, later, Wentz tweeted at Idol host Ryan Seacrest, saying, "I think he killed it. Team Andrew Garcia."
Unfortunately, the judges didn't share Wentz's enthusiasm. "I was looking forward to hearing you more than anybody else tonight," said the notoriously hyper-critical Simon Cowell (via Brian Mansfield's ever-informative Idol Chatter blog). "It was too serious, too indulgent." Kara DioGuardi called Garcia's cover "strange," but hoped the California native remains in this year's Idol hunt "for many, many, many weeks."
For those of you who aren't regular Idol viewers, Garcia has emerged as a favorite in this season's tournament, particularly after his recent performance of ex-Idol judge Paula Abdul's 1988 hit, "Straight Up," which is embedded below, as well, for comparison's sake.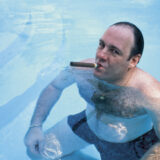 What did you think of Garcia's unplugged emo moment? What other indie hits would you like to see get the Idol treatment? Sound off below.
WATCH: Andrew Garcia, "Sugar, We're Going Down"
https://www.youtube.com/embed/pUwdhqRp1Gc
WATCH: Andrew Garcia, "Straight Up"
https://www.youtube.com/embed/E5V0iKkfuuA