High On Fire guitarist Matt Pike slings one of the heaviest axes in metal, and shreds faster than ever on his band's fifth studio album, Snakes for the Divine, out February 23. Hear an exclusive stream of the title track below!
The famed stoner-metal hero is also as angry and far out as he ever was. "'Snakes for the Divine' tells a tale of the atmospheric union of alien crossbreeding withMan's DNA and the creation of all Earth's religion by the reptilian agenda," he tells SPIN.com. "It will also kick your ass!"
The song glides between pounding speed and a violent-double time riff that could probably induce a fight or at least spill a few beers. It also clocks in at just over eight minutes, a veritable sea change for Pike, who referred to his 52-minute 1998 song "Jerusalem" as "lean."
Listen to "Snakes for the Divine," and tell us what you think about High On Fire's growl-filled, doom-laden, distortion-obsessed, steroid-injected extrapolation of stoner metal.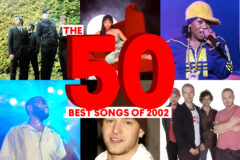 LISTEN: High on Fire, "Snakes for the Divine"