The latest video from Animal Collective's Merriweather Post Pavilion, named SPIN's Album of the Year, is abundantly colorful, chock full of animation, and a smidge psychedelic — just like the album itself. Watch the clip for "Brother Sport" below.
Unlike some of the other Merriweather videos — particularly "In the Flowers" — this latest clip has playful, joyous vibe, as two children frolic in a room full of paint, and the paint comes to life! There's also a rather eye-popping sequence featuring iridescent drops of color flying through the air.
"Brother Sport" was directed by Jack Kubizne, who, according to his Facebook page, is a student at Pratt Institute, Brooklyn's hipsterrific art school. Nice senior project!
Tell us what you like best about the video in the comments section.<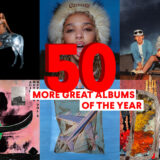 WATCH: Animal Collective, "Brothersport"
https://www.youtube.com/embed/MGQjyGT1-mc