Los Angeles rockers Silversun Pickups played Jimmy Kimmel on Tuesday night, performing the song "Panic Switch," the first single off their SPIN-approved sophomore album, Swoon. Watch the video below!
The seasoned quartet, road-tested after nearly a year of touring behind Swoon, confidently layered thick Siamese Dream-era guitar lines over Brian Aubert's lush vocals while performing in a studio not far from the Silverlake clubs where they launched their career in 2003.
The band will support British arena rockers Muse on an extensive U.S. tour that will take them from Atlanta to Oakland, with stops at South By Southwest in Austin, TX, as well as a sold-out show at NYC's Madison Square Garden. See the band's full schedule here.
Check out "Panic Switch" here — and for some older Silversun Pickups live footage, watch their late-2006 performance at SPIN's NYC office right here.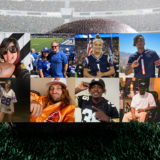 WATCH: Silversun Pickups, "Panic Switch" on Jimmy Kimmel Live