Floridian rockers Surfer Blood are riding a tidal wave of buzz.
The quintet — currently on a 50-date U.S. tour — wowed at CMJ and scored high marks from SPIN with their debut album Astro Coast. Now the band has released a music video for the album's lead single, the power-poppin', guitar-centric "Swim (to Reach the End)" — and it appears they like to beat up old people.
Dressed up as ultra-creepy versions of Mickey and Minnie Mouse, two band members ferociously make out with each other in the video, then topple an elderly man over and beat him with his own walker. If that's not enough cruelty for you, a little girl's ice cream cone gets smashed onto the pavement and an environmental activist gets a tag team beat-down.
All that crazy imagery is heavily in contrast with Surfer Blood's feel-good power-pop riffs and loud, hooky choruses. "Swim" could easily be an anthem for summer, if only it weren't six months away.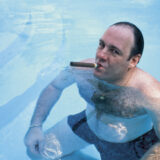 Read more about Surfer Blood in the March issue of SPIN, on newsstands Feb. 23!
WATCH: Surfer Blood, "Swim"