French duo Air's music is beautifully mysterious — just listen to any of their six albums or numerous film soundtracks, especially their work on The Virgin Suicides. The visuals in their latest music video — a dramatic film noir for "So Light is Her Footfall," off their 2009 album Love 2 — are equally mysterious.
The black-and-white clip follows a Veronica Lake-esque femme as she walks the darkened halls of a house, while Air's smooth, breathy lyrics describe her as a lonely angel. "She's all alone, alone, alone, alone, alone, alone," sing Jean-Benoit Dunckel and Nicolas Godin, who, apparently, are discounting the totally random black panther that just happens to be hanging out in the house!?!
The clip is a bit of a head-scratcher, but, hey, it's certainly pretty to look at. And the intrigue only complements the song's slow and sexy bass and guitar.
Watch the video below, then tell us what you think in the comments section.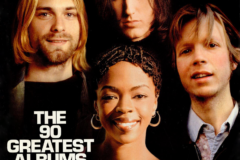 WATCH: Air, "So Light is Her Footfall"