Comedian and sitcom star Aziz Ansari's first-ever stand-up special airs on Comedy Central this Sunday — check out an exclusive clip below!
The one-hour show, Intimate Moments for a Sensual Evening, features Ansari — who plays Tom Haverford on NBC's Parks and Recreation — performing for a packed crowd at Los Angeles' Brentwood Theater.
In the hilarious two-minute preview below, Ansari riffs on linen manufacturers who deceive the public about the actual thread counts of their bedsheets. "If that was a drug deal," the jokester rants, "I would have shot Hotel Luxury Linens in the face!"
The special airs Sunday at 10 P.M. EST/9 P.M. CST — and will hit stores in CD, MP3, and DVD formats on Tuesday. Check out Ansari's tumblr page for more funny stuff from the up-and-coming comic.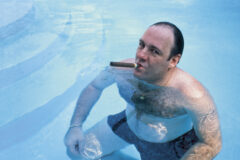 WATCH: Aziz Ansari