"We hope you like all the rock'n'roll versions of these songs," said frontman Kevin Barnes, three songs into Of Montreal's 80-minute set at Baltimore's Rams Head Live Monday night. "All of the computers are put away for the night."
And then the six piece (including one member doing tripped-out visuals) lunged into a, yes, rock version of "Du Og Meg," which felt like a steroid-pumped take on the 2007 tune.
Even by Of Montreal's colorful, verging-on-cartoony pop standards, the set — the first of this winter's quick eastern U.S. tour — was buoyant and brisk, leaning heavily on upbeat R&B and disco flavored numbers.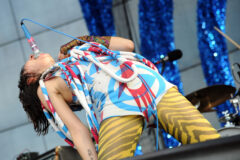 Opener "Suffer For Fashion," a relatively gritty track from 2007's Hissing Fauna, Are You The Destroyer?, turned out to be something of a red herring, and the sometimes-bitter break-up album didn't get much more stage time as the band rolled into "Mingusings," a mutant pop song that featured black-clad ninja-like assistants providing mobile strobe light support.
Of Montreal puts on one of the most glitzed-up, theatrical stage shows in indie music, and the mobile strobe units were just one element. A fake band clad in animal masks had started the set earlier with a chaotic frenzy of moan-growling and mashing of instruments, before getting the boot off the stage by the real sextet. And the set closed with a shirtless Barnes suspended on some sort of ancient wooden torture mechanism, like a disco crucifixion.
Fans reply to Of Montreal in kind, with many in neon warpaint, colorful feathers sticking from their hair. And all of them seemed to be bouncing up and down in time, enthusiastically trying to sing along to sped-up vocal showpieces not really meant to be sung along to.
A few songs later, the band's ninja stage assistants reappeared, holding up colorful cut-out animals next to each band member which, when projected onto an enormous pair of screens behind the band, lent the scene a surreal, underwater vibe.
By the time "St. Exquisite's Confessions" rolled around, Barnes' voice had found its place front and center, and his skyscraping falsetto — "I'm so sick of sucking the dick of this cruel, cruel city" — owned the room, a lower level of the otherwise closed-off, cavernous, and dark venue. Meanwhile, the pair of ninja assistants draped Barnes in a pair of neon cloaks.
Somewhere around the one hour mark, Barnes announced to the crowd that, yes, a new Of Montreal record would be arriving at some point this year — time undetermined, he emphasized. As proof, the band played a new song, "Coquet Coquet," another disco-y number beefed up with a mean guitar workout by Barnes, straight-up paint-peeling riffage.
Given that the new record is supposed to feature Solange and Janelle Monae, we could be in for something very interesting.
Dancing doesn't happen too often in the streets of after-hours downtown Baltimore, which is mostly quiet and sometimes run-down. But Of Montreal made it happen. All it took was a too-perfect cover of Jackson 5's "I Want You Back." Few bands could pull it off with such aplomb, but Barnes' voice in particular, brought it in glorious fashion. Blocks away from Rams Head Live, a pair of fresh-faced teenaged fans twirled on a corner of an otherwise gloomy stretch of asphalt — freaks on the loose.