The Kills' Jamie Hince proposed to Brit supermodel Kate Moss over the weekend — and she said yes! Wait… do you hear that? That's the disappointed sigh of men across the globe, including Moss' ex-beau Pete Doherty.
According to the U.K.'s Daily Mail, the guitarist-songwriter, 40, flew from London to the West Indian island of Mustique, where Moss was working, and proposed on Saturday, her 36th birthday. Sources say Hince used a diamond ring he chose with the help of Moss' boss and pal, Topshop owner Philip Green.
An unidentified "friend" of Moss' spoke to the Daily Mail about the engagement. "Kate was stunned, Jamie called her up and told her not to come home. He said he was flying out to Mustique. He had carefully picked a ring and chose her birthday to propose. Kate and Jamie are in a very good place, they already live together and this is the next step to settling down for good."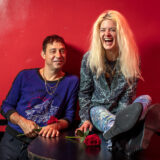 A spokesperson for Hince was unable to confirm the engagement at press time.
Hince and Moss met backstage at a Kills concert in London in September 2007, just three months after Moss ended a long and tumultuous relationship with Babyshamble Pete Doherty, and soon began dating. Meanwhile, Hince has continued with music, releasing the Kills' latest album, the SPIN-approved Midnight Boom, and touring the world. In the past year however, the Kills have remained mum as singer Alison Mosshart joined up with Jack White in the Dead Weather.