A new track from the upcoming collaboration from Wu-Tang Clan members Method Man, Ghostface Killah, and Raekwon has leaked online — and Raekwon himself even Tweeted the news!
Titled "Our Dreams," the track relies heavily on samples of "We're Almost There," a 1975 song by a young Michael Jackson that features uplifting lyrics about following your dreams and never giving up. It's a sweet sentiment that the trio couples with shout outs about their reunion ("We back / Reunited like the Wu / See, we soul mates").
Method, Ghostface, and Raekwon each take turns on the mic, but the transition between the Jackson track and their respective rhymes is a little jarring. Let's hope the rest of the trio's yet-to-be-titled release is a little … well, smoother … whenever it arrives. (The album was original scheduled to drop in February but has been pushed back to an undetermined date).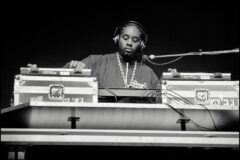 Meanwhile, Method, Ghostface, and Raekwon are looking for ideas on what to name their new group. They've set up a contest encouraging fans to Tweet or text suggestions, promising the winner a mention in the album's liner notes.
Listen to "Our Dreams" right here, then tell us what you think in the comment section.