Michael Jackson's death last June has inspired many emotional tributes from fans across the globe. Now Do the Right Thing filmmaker Spike Lee has released his nod to the fallen King with the official music video for "This Is It." Watch below.
The song — originally recorded in 1983 and released posthumously this past October — inspired the documentary film of the same name, featuring footage from Jackson's final rehearsals for the London concert residency planned for last summer. Like the blockbuster doc, the music video reminds us of the singer's incredible talent and significance to music fans worldwide.
Produced under Lee's 40 Acres & a Mule company, the five-minute clip opens at the corner of 2300 Jackson Street and Jackson Family Boulevard, the location of the singer's childhood home in the working class industrial town of Gary, Indiana. Next, it artfully intersperses iconic images of the singer with video footage of fan tributes, from bouquets of flowers outside his Neverland Ranch to mass gatherings of dancers wearing homemade MJ t-shirts and silver-sequined gloves.
It's a heartfelt remembrance of the King of Pop not just from one of film's most celebrated directors, but from one of MJ's biggest fans.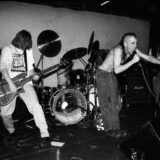 "This Is It," directed by Spike Lee:
https://player.vimeo.com/video/8182306