With an experimental sound that fuses jazz, funk, and rock, South African quartet BLK JKS (pronounced "Black Jacks") have found fans in Diplo and the Secret Machines — and become one of 2009's hottest breakout acts. They recently dropped by SPIN's New York offices to prove that the hype is no fluke with an awesome acoustic set. Watch video below.
Led by singer/guitarist Lindani Buthelezi, the boys blew kazoos and whistles, banged bells and traditional African drums, and chanted along on "Lakeside" and "Standby" from their SPIN-approved debut album, After Robots.
They also performed "Mzabalazo," a traditional South African tune played during toyi-toyi, a protest dance used in the 1970s and '80s during anti-apartheid marches.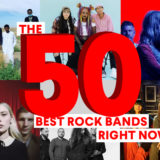 Watch the videos below, then tell us what you think in the comment section. And to check out some of our other SPIN Sessions, including performances from the Noisettes, Lou Barlow, Metric, and Wolfmother, click here!