Six weeks before the release of their seventh record Transference, Spoon opened a brief 2009 U.S. tour at the Midland Theater Thursday night in Kansas City. During a workmanlike one-hour set, they gave a crowd of about 1,500 a small taste of what that album will sound like.
(See a photo gallery of the concert here.)
Thursday's show was Spoon's first since late this summer — "a long time for this band," said lead singer/songwriter Britt Daniel. The evening went relatively smoothly, save for a little evident rust during the aborted start of "The Underdog."
The first of the new songs, "Written In Reverse," prompted cheers of recognition; the song has been getting airplay recently on KRBZ, the local radio station hosting this four-band holiday concert called "The Night the Buzz Stole Christmas." Like vintage Spoon, the new stuff showed an affinity for rock and pop music with roots in the late '60s and early '70s — lots of hard hooks and catchy melodies — but refined with some idiosyncratic twists. A prime example of that was the jaunty tune "Got Nuffin'," which was released this summer as part of a three-song EP.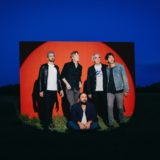 The rest of the setlist bounced around the band's catalog. Despite its rough start, "The Underdog" prompted the biggest response of the night from a crowd that seemed to be familiar with whatever the band played, from the opener "Don't You Evah" and the closer, "You Got Yr. Cherry Bomb," both from 2007's Ga Ga Ga Ga Ga. The mood wasn't manic so much as cheery and respectful towards a band that has been doing something well for a long time.
Metric proved the most visually dynamic band of the evening. When she wasn't pogoing behind the keyboards, lead singer Emily Haines was bopping, spinning and hopping around stage in her gold-sequined dress. The Toronto band, which has some affiliation with Broken Social Scene, featured several tracks off their latest album, Fantasies, including "Help I'm Alive" and "Sick Muse."
The Bravery were playing in Kansas City for the third time in four years. They haven't changed much: Sam Endicott and his New York outfit craft rock songs with bright melodies and buoyant dance grooves, yet their live shows remain oddly static. The setlist mixed older numbers like "Unconditional" and "Believe" with tracks from their new album Stir the Blood, like "Adored" and "Red Hands and White Knuckles."
Rising stars Hockey from Portland, Oregon, opened the night with a brief set of songs from their recent debut Mind Chaos that blended pop, rock, new wave and dance and draw reasonable comparisons to everyone from the Strokes to LCD Soundsystem.
Setlist:
Don't You Evah
Don't Make Me A Target
I Turn My Camera On
Written in Reverse
Got Nuffin
Rhythm and Soul
The Beast and Dragon Adored
Black Like Me, Is Love Forever
I Summon You, The Underdog
The Way We Get By
You Got Yr. Cherry Bomb