This week, the Stooges, Genesis, and ABBA earned Rock Hall spots for 2010, Rihanna dropped a brand new video for "Hard," John Frusciante officially announced his departure from the Red Hot Chili Peppers, and Twilight's Kristen Stewart sang in a new trailer for The Runaways.
Plus, don't forget to check out all of SPIN's year-end lists — including 2009's best songs and albums — right here. Also, vote for your favorite bands in our reader's pool, here.
These stories, plus the week's top news, audio/video, and live reviews, below.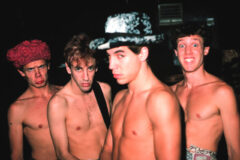 top Stories
Stooges, Genesis, ABBA for Rock Hall But what about Kiss and the Red Hot Chili Peppers?Read >>Plus
NEWS
STP "Almost Finished" with New Album Scott Weiland says the alt-rock vets have "nine songs completed" for their reunion release. Read >>Plus
PHOTO GALLERIES
30 Biggest Concerts of 2009 From Metallica to Lady Gaga, SPIN rates the year in live music! Read >>Plus
AUDIO/VIDEO
DOWNLOAD: Unreleased Elliott Smith Song! Kill Rock Stars unearths 1997's "Cecilia/Amanda" to celebrate upcoming reissues. Read >>Plus
REVIEWS
Surfer Blood, Astro CoastScruffy indie rock with cheap-seats aspirations.Read >>Plus