Lil Wayne and Eminem are two incredibly pissed off dudes. How pissed? Well, Weezy wants to "drop the world on your fucking head," and Em — whew — he scorns the "haters" and wants to "roast everybody." "Prepare to die!" he spits.
All these hugs and kisses come nicely package in three minutes and 46 seconds on "Drop the World," a song off Lil Wayne's long-awaited rock release, Rebirth. Go to Nah Right to hear the song.
In case you're wondering, Rebirth has been pushed back yet again, and is now — after a solid year of delays — expected to drop (fingers crossed!) this February.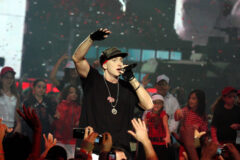 Unlike the slapdash guitar of "Prom Queen"and the Auto-Tuned "Da Da Da," "Drop the World" gives hope that Rebirth might be something other than a flop. The song is catchy, and with icy synth flourishes, rumbling drums and bass, and nu-metal guitars, it's the most convincing "rock" song to leak from Rebirth.