When he's not commandeering the stage as the boisterous bassist for SoCal punks Blink-182, Tweeting wisdom to more than 1.4 million followers, or handling album production duties for bands like Motion City Soundtrack and New Found Glory, you'd think Mark Hoppus would turn down the music.
Not. Possible.
In our continuing series, Hopp on Pop, Hoppus is sharing his favorite acts, culled from his incessant pursuit of all that rocks. (Click here to discover Mark's previous picks: Canadian rock duo Japandroids, NYC popsters fun., Kiwi dance-rocker Ladyhawke.) Check out his fourth entry below, and come back to SPIN.com next Wednesday for Mark's next musical revelation.
Be sure to follow more of Mark's opinions and exploits via Twitter and on his blog!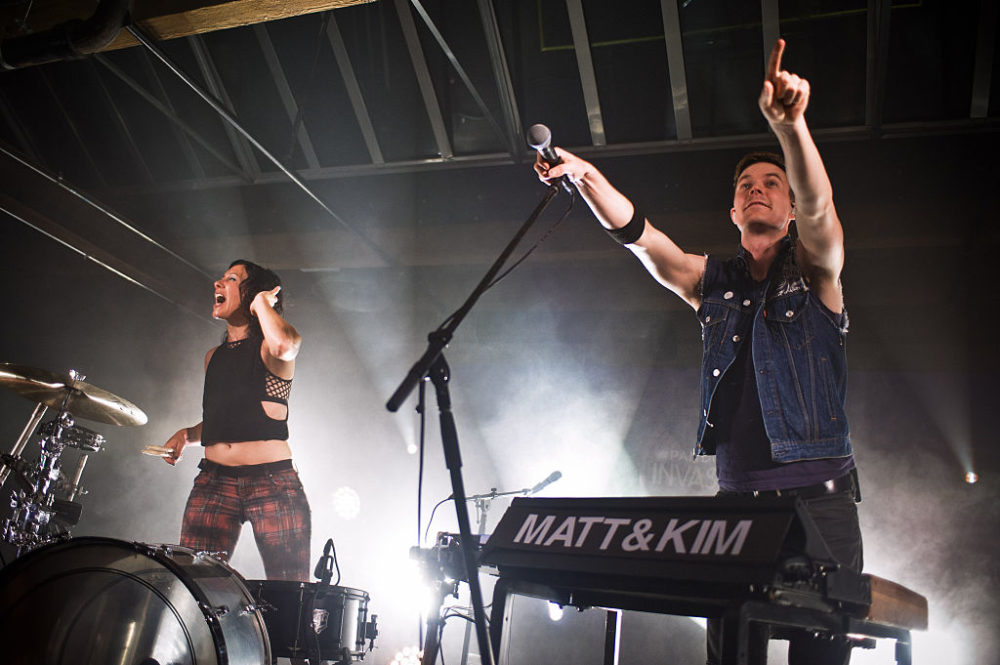 ALSO! Mark is currently auctioning off an amazing prize for a worthy cause. The winning bidder will get eight hours of time in Mark's California recording studio, during which he'll produce a track for your band! The proceeds benefit Deftones bassist Chi Cheng, who's been in a coma since a car accident in November 2008. Click here to visit the auction page and place a bid today!
MATT AND KIM
HOMETOWN:
Brooklyn, NY
THE BASICS:
Matt Johnson (keyboards, vocals) and Kim Schifino (drums, vocals) met at Brooklyn's Pratt Institute in 2004 and decided to form a band, even though neither knew how to play their instruments. Now, they've toured the world and released two albums, including this year's Grand.
WHERE HOPP HEARD THEM FIRST:
"I know they've been around for a minute, but I just got their album and think it's amazing. I was kind of bored with the music I was listening to, so I bought a music magazine. It mentioned them and had an interview with them that sounded interesting, so I went online and bought their record."
WHY THEY ROCK:
"Kim's a really strange drummer. The beats she comes up with are really awesome. I watched a video of them playing live on The Daily Habit [watch the video below!] and the dynamic they have is really interesting. I love that it's kind of lo-fi, and shows they recorded it themselves. It's definitely not Dark Side of the Moon production. It sounds like two people having a great time recording in their apartment."
HOPP'S TOP TRACK:
"'Daylight' is my favorite song. It has catchy chords. Pretty much the only songs I like in the world have the same chords."
LISTEN: Matt and Kim, "Good Ol' Fashion Nightmare" (DOWNLOAD MP3)

FIND OUT MORE: mattandkimmusic.com