Beastie Boy Adam Yauch had to fight for his right to live — and for now, he's won.
In a recent interview with Movie Line, in which Yauch chiefly chats about his film distribution company Oscilloscope Laboratories, he said that his health has improved — and that the Boys are plotting their return.
"I'm feeling fine now, after the surgery," he said.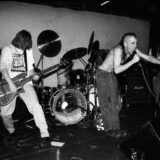 The Boys canceled a number of tour dates (including festival headlining appearances at Lollapalooza and All Points West) and put their new album on hold after the New York musician, a.k.a. MCA, discovered a cancerous tumor in his parotid gland last summer. Yauch received treatment and underwent surgery to remove the tumor.
Now that Yauch is on the road to recovery, the new Beasties album, called Hot Sauce Committee Part 1, may soon be back on the front burner. "We're just in the process of figuring that out now," he explained. "The record was pretty much set for release this past September, but we had to postpone it, because of health issues."
The band may also return to the festival circuit in 2010: Yauch said the trio are mulling over offers from events like Coachella. "That's definitely something we're discussing and trying to figure out if that makes sense," he said. "Believe me, it would be fun if it does come together."