Rock stars love to cast models in their videos (and thank god they do!): Whitesnake had Tawny Kitaen, Aerosmith had Alicia Silverstone, and now Alice in Chains have… Project Runway's Amanda Fields?
In the clip for "Your Decision," a tune off the band's reunion release, Black Gives Way to Blue, Fields invites the boys to a classy gala in the Hollywood hills… which turns into a freaky swingers party where the guys have a platter of women to choose from. (Watch below.)
The video is the vision of director Stephen Schuster, who worked with the band on their clip for "A Looking In View."
Fields, who appeared on season three of Project Runway, wrote about her music video debut on Blogging Project Runway: "The band members, Jerry, Sean, Mike, and William, were fun to work with and the director had such an incredible vision. The stylist, a friend of mine, Cory Savage, really knows how to make a rock video couture! The band members all wore crisp expertly tailored suits and the string quartet wore flowing white dresses with black lace blindfolds! My wig was made out of feathers!" [Via Blabbermouth]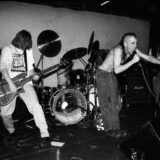 The song features lead vocals from longtime Chains songwriter/guitarist Jerry Cantrell, while new vocalist/axeman William DuVall handles backup duties on the pensive ballad, which departs from the brain bashing grunge-metal style heard on the rest of the album, especially lead single "Check My Brain."
Watch the video below, then tell us what you think the comments section! And for more on Alice in Chains, read a Q&A with Cantrell here.
Alice in Chains, "Your Decision" music video:
https://www.youtube.com/embed/MPAyu3tX66Y