FOX's Glee is nothing short of the year's best new TV show. With a sarcastic, clever, and giddy take on high school life, Glee roped in fans of beloved shows like Freaks & Geeks and My So-Called Life. And it's a pop music phenomenon, too: Songs from the show — which range from straight takes on standards to campy, music video-style embellishments — have racked up eye-popping sales totals, culminating in the Glee soundtrack debuting this week at No. 4 on the Billboard charts.
We invited four Glee cast members — Dianna Agron (Quinn), Mark Salling (Puck), Jenna Ushkowitz (Tina), and Kevin McHale (Artie) — to stop by SPIN's NYC office, take us inside the fictional McKinley High School, and talk about the show's best moments, the songs they'd love to see "Glee-ified," their own musical loves, Neil Diamond's Twitter habits, and much more.
Scroll down past the video player for additional info on our guests.
Interview by Peter Gaston / Video by Eric Nowels & Matt Kiser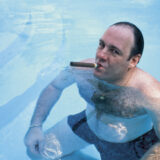 WATCH:
DIANNA AGRON
Glee character: Pious and pregnant head cheerleader turned reluctant glee club member Quinn Fabray
Favorite artists: Classic songwriters like Dylan and Daniel Johnston, indie faves Bon Iver and Passion Pit
First concert: The Who
First album purchased: Mellon Collie & the Infinite Sadness, Smashing Pumpkins
MARK SALLING
Glee character: Mohawked football player Noah "Puck" Puckerman
Favorite artists: Guitarists like Pantera's late Dimebag Darrell and frequent Dave Matthews sideman Tim Reynolds
First concert: The Toadies
First album purchased: The Downward Spiral, Nine Inch Nails
JENNA USHKOWITZ
Glee character: Stuttering, hair-dyed glee club member Tina Cohen-Chang
Favorite artists: Adele, Kings of Leon, Britney Spears, Motown, Broadway
First concert: Billy Joel & Elton John
First album purchased: Daydream, Mariah Carey
KEVIN McHALE
Glee character: Wheelchair-bound, guitar-wielding Artie Abrams
Favorite artists: Everything from Green Day and Radiohead to Boyz II Men and Michael Jackson
First concert: Ricky Martin
First album purchased: 2gether, 2gether