REALITY: Radiohead kinda blow.
They're the vanguard of music, a post-rock think tank, the absolute state of the art.
They've also been righteous, giving a confused music world a moral center. So we sit, wearing headphones and frozen grins, and continue denying that guilty, nagging feeling that actually, in some ways, when you think about it…Radiohead kinda blow.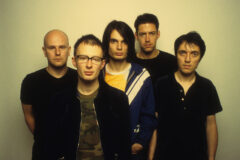 Few, save for Liam or Noel Gallagher, dare speak this heresy aloud, instead couching it in longings for a "back-to-basics" album or a "return to form," despite the fact that Radiohead are at their critical and commercial peak. Civil (by Internet standards) discussions reside on Yahoo message boards with titles like "Why Did Radiohead Become Dull and Boring?" But while such almost apologetic criticism typically hides online or at water coolers, sometimes the elephant isn't in the room, but onstage.
At last year's All Points West festival, as their thin, stubbly faces filled massive video screens, Radiohead began their set with In Rainbows' "15 Step": an open-ended groove with a quirky electro beat, two-chord motif, and airy, abstract singing. Then they did the 2001 song "Morning Bell/Amnesiac": an open-ended groove with a quirky electro beat, two-chord motif, and airy, abstract singing. Then they kept going, one groovy tone poem into another, masterfully weaving beats, sound-washes, and misty vocals into an immersive experience of sound, light, pattern, rhythm, and utter, paralyzing boredom. By the encore, it was obvious what Radiohead had become: an exceptionally well-dressed jam band. That you can't even dance to.
The trajectory makes perfect sense. Thanks to "Creep," from their 1993 debut, Pablo Honey, the band contracted Gimmick Hit Syndrome and began the usual defensive career arc. To prove they were more than a grunge one-liner, they recorded the smart, powerful anthems of The Bends. To prove they weren't just excellent rock songwriters, they dug deep and created the stunning OK Computer, whose melancholy sweep of strange, gorgeous songs played like an elegy for modern man. With that, Radiohead supernovaed, garnering every superlative there was, including comparisons to epochal albums like Dark Side of the Moon. Then they had to make another one.
Kid A was a deft, sometimes beautiful experiment in electronica-based songwriting. Some fans found it a bit formless and switched to Coldplay, while others declared another masterpiece, encouraged by critical blurbs such as "Comparing this to other albums is like comparing an aquarium to blue construction paper." Even the nuttiest hyperbole reflected a growing belief that Kid A had revealed the future of rock, although it actually revealed the future of Radiohead. "I think, 'What would my life be like without the Beatles?'?" Bono once said, worryingly, about Radiohead's post–Kid A output. "If the Beatles had just kept going on experimenting after Sgt. Pepper's?" And so they kept making pleasing beat reveries, enjoying continued success with fans, and receding ever further from the larger culture.
But in 2007, they dominated headlines by self-releasing In Rainbows online on a pay-what-you-want basis, positing a new economic model like some anarchist jewelry-maker at Burning Man. Of course, the nobility of the gesture was somewhat mediated by the fact that Radiohead are millionaires, and that three months later, In Rainbows was released, on CD, by a label (ATO) and sold in fine stores everywhere. The free download was more self-leaked promo than revolution. Even so, Yorke promised yet another paradigm shift, telling an interviewer this summer he had no interest in making proper albums, that Radiohead — who held the medium so sacrosanct that they weren't on iTunes until 2008, lest a track be divorced from its proper context — would abandon this hoary format and lead us into the free-floating digital world. Until guitarist Ed O'Brien let slip soon after that they are indeed working on an album.
So they're a band, making records. Why all the newspeak? Does Radiohead's every move have to be without precedent? Must they define a new music language? And really, does anyone believe that the creators of the finest, most original, and significant rock album of the last 15 years shouldn't be making rock albums? No one is suggesting Radiohead play the Super Bowl or release OK Computer 2: The Legend of Curly's Gold. And certainly, if they were the type of band that took advice, they wouldn't be Radiohead. But knowing the level of songcraft they're capable of, and that they possess an almost unheard-of level of autonomy and status, makes their latest behavior inscrutable at best.
There have been signs of a thaw. Yorke recruited fun-loving, oft-shirtless Chili Pepper Flea for a few solo shows in L.A. this fall (though Flea may just be doing fieldwork for his music degree at USC), and new songs like "Open the Floodgates," which Yorke debuted in October, augur anything but rockin' good times. The lyrics begin, "Don't bore us / Get to the chorus" and indict grabby, pleasure-seeking fans as another example of the self-medicating masses he satirized on OK Computer's "No Surprises" — people who demand that art and life include only "the good bits…no heartache, no pain."
He made the exact same point with his actions during Radiohead's encore at All Points West. After a two-hour set, with the crowd screaming for more, Yorke retook the stage alone, sat at a grand piano, and played a quiet, minimalist nocturne. For five minutes. Before 20,000 people. The song, "Cymbal Rush," from his 2006 solo album The Eraser — titled in an apparent gearhead reference to some sonic effect or software patch (probably between "Amp Fuzz" and "Element Isolator") — amplified the sense that this man was so far up his own formalist ass we might as well have not even been there.
It's a valid outlook, but an odd one for someone making populist gestures in his business life and performing on such a giant stage. This became even more apparent after Yorke was rejoined by his band. As they began the loud, dramatic surge of "Just," from The Bends, it was like a toggle switch transformed the crowd from a group of happy, attentive young men and women to an ecstatic mob. "Pumped by an oldie" doesn't come close; this was now a different audience.
A year later, Radiohead opened their headlining set at the Reading Festival with the rarely played "Creep," the song that started it all. Sixteen years ago, this outsider anthem's refrain, "I wish I was special," stated an irony that has engulfed Radiohead their whole career. A band that can make iconic songs that stretch across a fractious culture, that can weave them into an even greater whole, and that have a unique, haunting musical voice we will remember for decades, is plenty special. As special as it gets. If only they'd settle for good.
Agree? Disagree? Tell us what you think below!