When he's not commandeering the stage as the boisterous bassist for SoCal punks Blink-182, Tweeting wisdom to more than 1.4 million followers, or handling album production duties for bands like Motion City Soundtrack and New Found Glory, you'd think Mark Hoppus would turn down the music.
Not. Possible.
In our new series Hopp on Pop, Hoppus will be sharing his favorite up-and-coming acts, culled from his incessant pursuit of all that rocks. Check out his first entry below, and come back to SPIN.com every Wednesday for Mark's next musical revelation.
Be sure to follow more of his opinions and exploits on his Twitter and on his blog!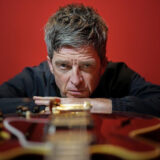 JAPANDROIDS
---
HOMETOWN:
Vancouver, Canada
THE BASICS:
Duo that's just guitar and drums, with both guys singing live.
WHERE HOPP HEARD THEM FIRST:
"I actually heard about this band through the dude that cuts my hair. He plays drums in bands, and whenever I get my hair cut we talk about new bands and music. He was talking about Japandroids — described them as '90s alt-rock — so I got their record."
WHY THEY ROCK:
"There are a lot of two-piece acts out there right now and some are really great, but Japandroids just sound really different from anything out there. I've seen a video of them playing live and the guitar player actually splits his signal into two different amps — one is really distorted and the other is more clean, so it sounds like there are two guitars being played even though it's just one guitarist."
HOPP'S TOP TRACK:
"My favorite song on their album, Post-Nothing, is 'Heart Sweats.' It really reminds me of early Smashing Pumpkins stuff that I've always loved, and I dig the break as it goes in the chorus."
DOWNLOAD: Japandroids, "Young Hearts Spark Fire" (DOWNLOAD MP3)
WATCH: Japandroids, "Heart Sweats" (Live on KEXP)