Since Oasis' acrimonious split in August, guitarist/songwriter Noel Gallagher has been busy readying a solo album, while his brother, singer Liam Gallagher, focuses on his new clothing line, Pretty Green. But that's all set to change: The cocky Brit singer is preparing to return to the stage!
"I'll be back doing that [playing live] within a couple of months," Liam told Italian station Radio Deejay in an interview Friday morning [via NME]. "I always miss singing songs. I miss the people."
Who Liam will be performing with is still undetermined, but he said that he's currently writing new material with his former Oasis bandmates. "We're sort of doing things at the moment. Not Oasis, Oasis is done. Everyone except for Noel," he explained.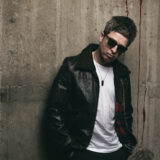 Recent reports also claim that Liam approached Last Shadow Puppets singer/guitarist Miles Kane at the London launch party for Pretty Green, in an attempt to recruit him for a new band.
In the Italian radio interview, Liam further elaborated on Oasis' split — and the heated backstage fight with Noel before a Paris gig, in which the brothers broke each other's guitars.
"I didn't smash it [the guitar] on him, I wish I had, man. He sort of… treated my guitar poorly, which was a present off my wife," Liam said. "So I thought it was only fair to pay the compliment [back] so I smashed one of his. It sounds ridiculous, like a pair of old women."
"To be quite honest, I think our kid [Noel] wanted out," Liam added. "But you'll have to ask him when he comes in and does his little solo thing. We had an argument — but we've had bigger ones… Basically, I think he wanted out, wanted something different, but he hadn't got the bollocks to tell the band or the fans."
What do you think, SPIN readers: Are you excited for solo projects from both Gallagher brothers, or should Oasis squash the beef and reunite? Tell us in the comment section below.