Pete Wentz is spending Fall Out Boy's indefinite hiatus adapting to the domestic life.
But guitarist Joe Trohman and drummer Andy Hurley have opted for something heavier: They're forming a metal band with Anthrax axemen Scott Ian and Rob Caggiano, and Every Time I Die singer Keith Buckley, called the Damned Things.
David Karon, a mutual friend responsible for bringing the band together, will play bass.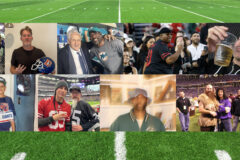 According to Rock Sound, Anthrax's Ian was skeptical of the concept before meeting with the Fall Out Boys, but became enthusiastic when they started jamming and discovered a sound he described as a mix of Josh Homme's influential 90s stoner-metal group Kyuss and Irish hard rocker Thin Lizzy.
"It's super fun and it's something that we do totally take seriously because we love the music we've created," says Ian. "People think of Fall Out Boy and they think of Pete Wentz and Patrick. These two guys, man, they're fucking hardcore dudes. Joe writes some amazing riffs. He fucking blew my mind with this song [called 'A Great Reckoning'] and I just can't wait for people to hear it."
Adds Trohman: "Scott's right hand is the reason I got into playing punk rock, hardcore, and metal!"
The Damned Things have already written 15 songs and hope to enter the studio to record in December.