Before going on an indefinite hiatus last year, Philadelphia pop-punk quintet the Starting Line played one final hometown show, which was captured for Somebody's Gonna Miss Us, a new CD/DVDrelease, out Nov. 10.
Below, watch an exclusive clip of the band ripping through fan fave "Given the Chance" onstage at the city's Electric Factory venue!
As the video proves, the band's set was a spirited goodbye to the City of Brotherly Love — and the Say It Like You Mean It gem acted as a thank you to the boys' longtime fans, who moshed and danced throughout the song.
"When the curtains close / I'll realize how fast time could go / Thanks for everything / You know how much this means," shouted frontman Kenneth Vasoli.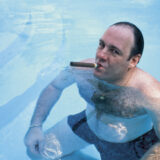 The Starting Line may have reached the finish line, but the band's members have other musical projects in the works. Vasoli is recording as Person L; drummer Tom Gryskiewicz formed Cheap Seats; and guitarist Mike Golla joined the Traded Series. Each new band will perform tonight at Philadelphia's World Café Live as part of a release party for Somebody's Gonna Miss Us.
Check out the video of "Given the Chance" below, then tell us what you think in the comment section!
WATCH: The Startling Line, "Given the Chance"