Nirvana's headlining gig at England's Reading Fest in 1992 has gone down in rock history as a legendary performance, showing the trio at their pinnacle of showmanship and popularity as Nevermind conquered the charts and Kurt Cobain was crowned "the voice of a generation." But drummer Dave Grohl figured the show would be Nirvana's last!
"I really thought, 'This will be a disaster, this will be the end of our career for sure,'" Grohl told the Scotsman. "Kurt had been in and out of rehab, communication in the band was beginning to be strained. Kurt was living in L.A., Krist and I were in Seattle. People weren't even sure if we were going to show up. We rehearsed once, the night before, and it wasn't good."
As the show began, Cobain was pushed onstage in a wheelchair, dressed in a hospital gown, and jokingly collapsed before jumping up and starting the show with a fiery rendition of "Breed." Nirvana then ripped through a 25-song, 90-minute performance for an audience of 50,000. "It turned out to be a wonderful show, and it healed us for a little while," said Grohl.
Nirvana Live At Reading, a live DVD of the performance, was finally released earlier this month. Watch the Kurt and Co. play "School" below.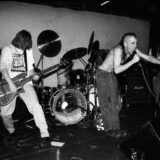 Even 15 years after Kurt Cobain's death, the live DVD isn't the only release from the Nirvana camp. The band's Sub Pop debut, Bleach, was recently reissued for its 20th anniversary, along with a complete recording of a 1990 gig in Portland, OR, with the band's original drummer, Chad Canning. Download "Scoff" from that show here.
Meanwhile, Dave Grohl and Krist Novoselic are staying busy. Grohl's Foo Fighters just released a new greatest hits album (complete with two new songs!), and he returned to the drums with new supergroup Them Crooked Vultures. Novoselic continues writing about music and politics on his Seattle Weekly blog.