Thursday night at Yankee's stadium, New York rapper Jay-Z kicked off Game 2 of the World Series with an ode to the home team: "Empire State of Mind," his Blueprint 3 hit with Alicia Keys. The duo's faster, pumped up rendition of the anthem worked: the Yanks beat the Phillies 3-1, evening the series at 1-1.
Jay-Z came dressed to rally his team after their loss Wednesday, sporting a Yankees cap and matching jacket, rapping "I made the Yankees hat more famous than a Yankee can." Keys, meanwhile, hollered: "New Yooooorrrrrrkkkkkkkk."
Though the excitement was palpable, none of the Yankees were moved to crash the stage à la Lil' Mama at the VMAs. Rather Derek Jeter, who uses the track as his batting intro music, bobbed along with teammate Joba Chamberlain, while Ramiro Peña recorded the performance on handheld video camera from the dugout. Memories!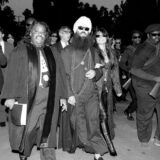 The series heads to the City of Brotherly Love Saturday. What hometown musician do you think should open Game 3? Hey, how about these Boyz — with a Will Smith cameo!?!
https://youtube.com/watch?v=BiryjGi6wZQ