After four years apart, the Strokes announced their return this past spring, saying they're recording a new album in New York City, with hopes of releasing it in early 2010. But there's new division in the reunited band — the boys are already at ends over the songs for their follow-up to 2006's not-so-awesome First Impressions of Earth.
"There is a disagreement as to whether the songs are ready," singer Julian Casablancas told UK's The Sun. "Some of the band think they are and others don't. I'm somewhere in the middle. [Via NME]
"The problem is getting us together," he added. "We're scattered everywhere, and apart from when we're rehearsing we don't see each other. We're not like people who go to the movies together. It's weird with the band, a band is actually a great way to ruin a friendship."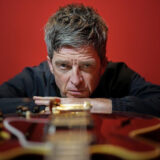 Which may be why the guys have spent so much time alone in recent years. Guitarist Albert Hammond Jr. has built a respectable solo career, releasing his latest effort, the SPIN-approved ¿Cómo Te Llama?, last year; bassist Nikolai Fraiture dropped The Time of the Assassins; drummer Fabrizio Moretti joined Little Joy and released an excellent self-titled debut; and now Casablancas is venturing out on his own with Phrazes for the Young, his synth-y solo release, out now.
In the end, Casablancas feels the Strokes will put aside their differences and take another move forward. "My idea was always to take undergroundish, cool music and make it mainstream. That was my goal, and we haven't achieved it," Casablancas said in an interview with SPIN. "We got to the top of the underground, but we never got as big as Green Day or Creed or any of the bands we were supposed to be replacing in 2001. So, in my mind, here's still a step to take. I hope we can do it."