As we suspected, Pavement's four-night stand in September 2010 in New York's Central Park will not be the reunited indie band's inaugural live performances.
Pavement's U.K. label, Domino, announced today that the band will be curating Britain's All Tomorrow's Parties festival, set for May 14-16, 2010 in Minehead, a coastal town in the Southwest of England, about three-and-a-half hours from London.
The band will headline the festival and help pick other bands to perform, just as the Flaming Lips did in last month's U.S. installment of ATP. Tickets go on sale this Friday, Oct. 9.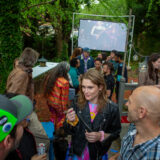 The Pavement weekend will be the second of two ATP weekends planned for May 2010 in the U.K. A headliner/curator for the May 7-9 weekend will be announced next week.
And for those of you scoring at home, the Coachella festival, which takes place annually in California, usually in mid- to late-April, would be a pretty snazzy place for Pavement to really reunite.