Flint, Michigan, quartet the Swellers aren't the first aspiring rock outfit to try something crazy to land their big break. While they were performing Wednesday at SPIN's NYC office, Swellers frontman Nick Diener revealed how a giant bumper sticker helped his band work their way into the heart of Paramore singer Hayley Williams:
"We saw Hayley's car, with a bunch of band stickers all over it. [Guitarist] Ryan [Collins] decided it would be a good idea to get one of the Swellers stickers [which are massive] and put it on the back of her car. We had never met Hayley before. We had no idea if she'd ever heard of our band or anything.
"A couple weeks later, we heard that she found the sticker and loved it," Diener continued. "She already had our record and stuff. And thus began the most beautiful friendship on earth!"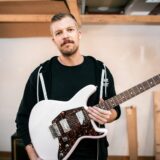 The Swellers, who are opening the Paramore tour through Nov. 11, share Williams' label; their Fueled by Ramen debut, Ups & Downsizing, is out now. Next, they'll open for Less Than Jake's nationwide jaunt through the end of 2009.
Their four-song set at SPIN provided a taste of the band's uber-catchy pop-punk, led by Diener's gutsy wail — and spiced up by drummer (and brother) Jonathan Diener's percussive touch on the salt shaker.
Watch the performance here and tell us whether you'd slap a Swellers sticker on your car!