Monsters of Folk — the indie supergroup featuring M. Ward, My Morning Jacket's Jim James, and Bright Eyes' Conor Oberst and Mike Mogis — gave the crowd at Vancouver's Commodore ballroom their money's worth with an epic two-and-a-half-hour set on the opening night of their U.S. tour.
At various points during the show, members would come and go, with Oberst and Mogis left alone to perform Bright Eyes faves like "Lenders in the Temple." And a solo Ward pretty much blew everyone's mind with his own acoustic-blues knockout "100 Million Years." No less stellar was James teaming with Ward for a gorgeously restrained rendition of "Wonderful (How I Feel).
Fittingly, though, it was the Monsters of Folk originals which were the night's showstoppers. For reasons that probably had everything to do with opening-night jitters, the band members took a while before they started to look comfortable. The fact that everyone seemed to be watching each other out of the corner of their eyes did nothing, however, to derail the brilliant Death Valley Americana vibe of "Man Named Truth", which came four songs in.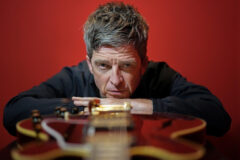 Ward, Oberst, and James rotated on bass, guitar, and keyboard every couple of songs, but the musicianship was coolly efficient throughout, with the unsung-hero award going to hired-gun drummer Will Johnson. Ward put on a one-man honky-tonk clinic behind the keyboards during the gold-dusted country nugget "The Right Place," and based on his ace sweeping steel guitar work, Mogis could pretty much write his own ticket in Nashville.
The band wasn't afraid to take things down a couple of notches with the 2 A.M. lullabye "The Sandman, the Brakeman and Me" featuring harmonies fit for the Everly Brothers.
And the Monsters finished loud and strong, unleashing a guitar barrage on the unrelenting set-closer "Losin Yo Head." For four cacophonous minutes, the four gave it like they were gunning for a main-stage slot on the 2010 Warped Tour. It was completely awe-inspiring, to the point where, after two-plus hours, you couldn't wait for the encore, no matter how drained you were.
And when that encore concluded with the incandescent "His Master's Voice," your only regret was that Monsters of Folk didn't set right back up and do it all over again.